By Anna Gao (Grade 11) 
The summer is over, and the cool autumn breeze has quietly arrived. CSW students finally held the House ceremony on October 16 that everyone had been looking forward to it for a long time. Entering the large classroom, the faces of the students were full of stress, anticipation and excitement. All spoke of the house that they wanted to enter. Each house's flag has been set, and the leaders have already sat in each house's area waiting for the new members to arrive.
After the speech made by Principal Kent Tamblyn, Hogwarts music was playing slowly in the hall. One of the foreign teachers, Ms. Yang, dressed as Harry Potter, jumped in with a magic wand and a magic robe. The whole audience's cheers could not be silenced, and then entered the topic. First of all, the students of Grade 10 began to be divided to each house one by one. Ms. Yang used the "branch hat" to divide the house. Every time a person entered a house, the house rang out warm applause and cheers. That was a welcome for new members to join, and everywhere reflected the excitement of our CSW students. The students gladly looked at their teammates when the houses were full of members. Some of them were good friends already. They even jumped up and clapped and happily hugged one another.
Then the first house competition, the "hoop" game, took place. When one person throws a hoop, the other person has to catch the ring by his neck. The applause on the scene rang again and again with "entering the hoop". How many hoops you can catch equals to how many chips you can get. The use of the chips was clarified later by the headmaster. With these chips, we could auction them. The house with the most chips could purchase a wig and order every house teacher or leader next Monday to wear it all day.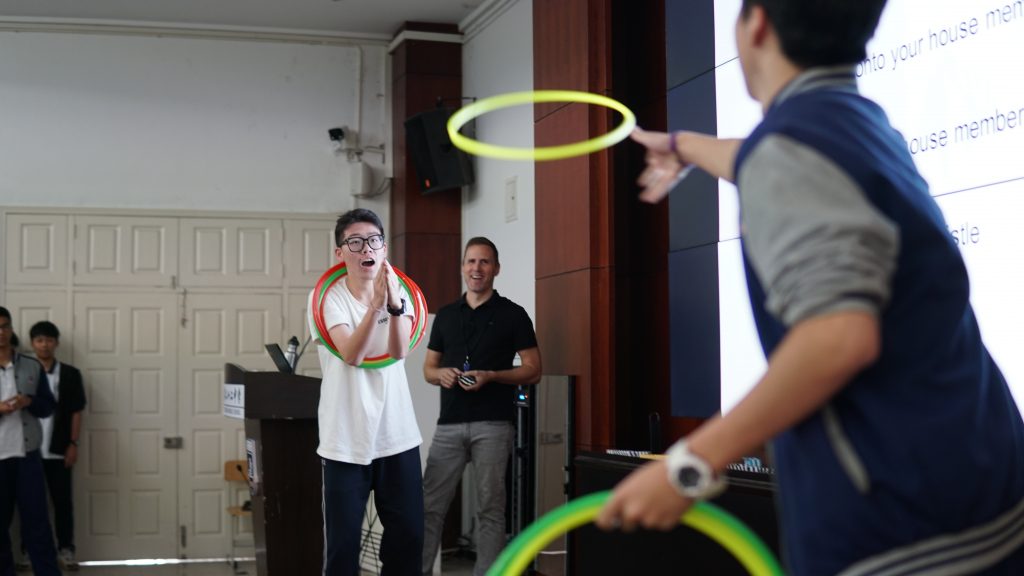 A ferocious auction took place. The first blue wig was sold to the blue house, and Mr. Gamache was chosen to wear it. The second gray wig was sold to the gray house, and teacher Zhao was assigned to wear it. The third black wig was sold to blue house again and assigned to Kiki, the leader of the black house in grade 12. The last yellow wig was sold to the black house and they chose Ms. Radulovic, another BC teacher to wear it. The auction process was breathtaking, and the highest chips even reached 17.
At the end of the activity, we went to our respective house classrooms for the "ice breaking" meeting, which was the self-introduction part. This is an opportunity to more fully understand each other and to lay a strong foundation for our future cooperation with the house members. We also hope in the future that we will grow up in our own houses along with our teammates and continue to be brilliant.